Differing Viewpoints: If Jackson Was at Gettysburg, Would the CSA have Won the Battle? YES: Tom Roza; NO: Jim Rhetta
To enhance the experience and enjoyment for South Bay Civil War Roundtable members who attend the monthly meetings, a new format for presentation topics has been developed to augment the more traditional formats. The new format is entitled "Differing Viewpoints".
For a specific Civil War related topic, two views are presented on whether a critical component or element was present or occurred that would have changed the outcome. The two views are: YES – the outcome would have been different; NO – the outcome would not have been different. Each view can be presented by one or more members with each view taking up no more than 15–20 minutes. Slides or other visual aids can be used to support a view. This is NOT a debate—just a presentation of differing views.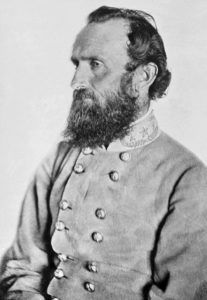 For the September 29, 2020, SBCWRT meeting, the presentation topic is, "If Jackson was at Gettysburg, would the CSA have won the battle?"
The vast majority of Civil War historians have concluded that the Battle of Gettysburg was the high water mark of the Confederacy's effort to become an independent country. Over the nearly 160 years since the battle was fought in July 1863, there have been numerous discussions on whether the outcome of the battle would have been different if Confederate General Thomas "Stonewall" Jackson had not died in May 1863 from wounds suffered at the Battle of Chancellorsville. Tom Roza will present the YES view; Jim Rhetta will present the NO view.
Jim Rhetta retired from Lockheed Corp, and from the USAF Reserve as a Colonel in the Intelligence Community. In both careers he monitored, analyzed and reported on global conflicts and crisis for the DoD Community. His careers required him to write threat assessments, weekly activity reports, and publish classified documents. He continues to study both current events and historical subjects for their impacts on us today. He has made several presentations on social, economic, and military subjects of the Civil War.
Tom Roza has been a student of history for over 60 years. His interest in history in general and the Civil War in particular began with his elementary education in Milwaukee, Wisconsin and has evolved ever since. As an officer and the Secretary of the South Bay Civil War Roundtable, Tom has made numerous presentations on the topic of the Civil War to both his Roundtable organization and other historical organizations in the Bay Area. Tom is also a published author of the book entitled Windows to the Past: A Virginian's Experience in the Civil War, which has been accepted by the Library of Congress into its Catalog; Tom is currently working on a sequel entitled Lost Cause – Justice Found.