Jim Tortorici on "Federal Ironclads and Their Technology"
During the Civil War, the CSS Virginia, a captured and rebuilt Union steam frigate formerly known as the USS Merrimac,engaged the USS Monitor in the first battle between iron-fortified naval vessels in history. The ironclad warships proved their value in battle. No longer would wooden ships be viable in war. The battle had changed the course of naval warfare.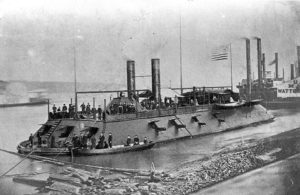 The Union built a formidable force of river ironclads, beginning with several converted riverboats and then contracted engineer James Eads of St. Louis, Missouri, to build the City-class ironclads. These excellent ships were built with twin engines and a central paddle wheel, all protected by an armored casement. They had a shallow draft, allowing them to journey up smaller tributaries, and were very well suited for river operations. They were not as heavily armored as the ocean-going monitors of the Union, but they were adequate for their intended use. More Western Flotilla Union ironclads were sunk by torpedoes (mines) than by enemy fire, and the most damaging fire for the Union ironclads was from shore installations, not Confederate vessels.
Jim's presentation will cover the armor, engine, and guns of the federal ironclads, focusing on the USS Cairo.
Jim Tortorici was born in 1946 in Chicago, IL. He spent much of his youth in Chicago and Westchester, IL, Ogden, UT, and moved to San Jose, CA, in 1960. He attended Campbell and Blackford High Schools graduating in 1964. In 1969, Jim graduated from San Jose State University with a BS in Industrial Arts specializing in Business and Industry. Jim received his MA in Industrial Technology in 1976 from San Jose State University.
Upon graduation from San Jose State University in 1969, Jim served on active duty for three years in the US Marine Corps and then entered the Reserves retiring as a Lieutenant Colonel in 1995. Upon release from active duty, Jim was hired as a Design Draftsman in 1972 at Ford Motor Co in Milpitas, CA. In 1974 Jim was hired by IBM in San Jose retiring as an Advisory Engineer in 2001.
Jim has been married for 50 years to his wife Barbara. They have three children, eight grandchildren, and six great-grandchildren.
Jim's interest in ship modeling began in his youth building plastic and wood models. This interest broadened to flying scale model aircraft and scale model railroad trains as an adult. Later Jim began specializing in ship models with his affiliation with the South Bay Model Shipwrights Club. Some of his more detailed projects include the HMS Victory, HMS Halifax, the 1678 Grosse Jacht, the USS Monitor, and currently the USS Cairo.